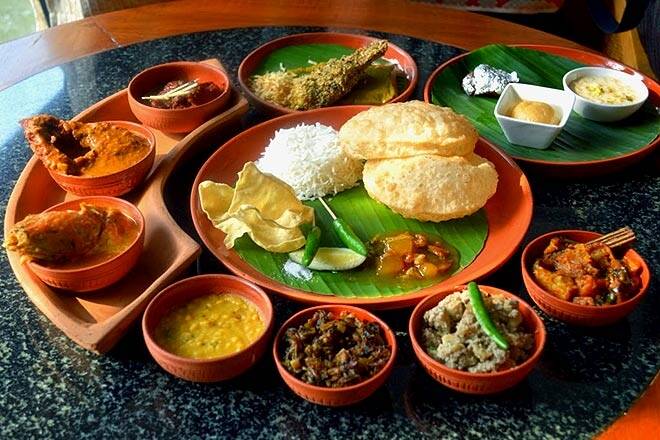 Delicious Bengali dishes for Pohela Boishak
mitu, 5 months ago
0
3 min

read
406
This year 'Pohela Boishak' is going to be different. As the Bengali New Year will start with the holy Ramadan so we'll have a different kind of celebration. Even if you don't get to celebrate daylong, you might want some Bengali dishes for dinner. So today I bring some traditional famous Bengali recipe. That will surely make an atmosphere going with the Bengali vibes.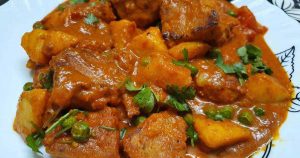 Dimer Dhokkar Dalna
It is dish that goes perfect with luchi. People who prefer light dinner this is best for them. Let's get started.
To prepare this dish you'll be needing-
Potato, Eggs, Green chillies, Ginger, Green coriander, Cumin powder, Coriander powder, Red chilli powder, Turmeric powder, Garam masala powder, Salt, Black pepper powder, Oil (for greasing), Panch phoran, Onion paste, Chicken stock, Ginger paste, Garlic paste, Curd, Tomato puree, Cumin powder, Coriander powder, Turmeric powder, Red chilli powder, Sugar, Mustard oil (for frying and cooking), Green coriander, Salt, Bhuna masala, Refined flour, Black onion seed, Salt, Ghee
Begin with preparing the dhokkar dalna. For that boil potato and grate it, there should not be any lumps. Next add beaten egg and all powder spices. Mix well. Now place on a greased baking tray and steam. After 20 minutes take it out and cut into desire shape once it gets cool.
Next prepare the curry. First pour oil in pan. When heat it up, add panch phoran and temper it. Then keep adding onion paste, ginger and garlic paste. Cook for a while then add powder spices, tomato puree, salt, sugar and cook it properly. Add some chicken stock. When stock is boiling and reduced to half add fried the dhokkar dalna. Cook until it is soft and juicy.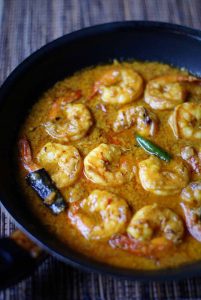 Chingri Malai Curry
Also known as prawn malai curry. It is a famous Bengali prawn curry for every occasion. Mainly served with rice but you can use polaw instead.
Know the ingredients
prawns, mustard oil, whole cumin, ginger paste, cumin powder, chilli powder, turmeric powder, salt, sugar, garam masala, coconut milk, ghee.
Start blanching the prawns in turmeric water. Then heat mustard oil in a pan and add sugar and whole cumin. Add ginger paste, cumin powder, red chili powder and turmeric powder and sauté. Then add the prawns and slit green chili and stir for few minutes. Afterwards add coconut milk and cook for few more minutes and then add salt. End with a sprinkle of garam masala and ghee on top before serving.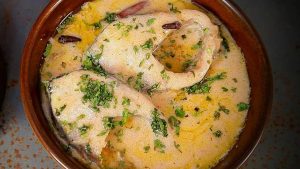 Doi Maach
This recipe is another top listed menu for Bengali. The curd in it gives an aromatic flavor of tradition. After day long fasting in Ramadan doi maach is a great option to digest.
Ingredients:
Mustard oil, Bay leaf, Cassia, cloves, green cardamoms, Cumin seeds, turmeric powder, red chili powder,
Ginger garlic paste, Onion paste, Curd, Salt and Coriander leaves for garnish
First marinate the fish with turmeric, chili powder, salt and a teaspoon of mustard oil for 15 minutes. Into a separate bowl whisk the curd well and add the turmeric and red chili powder. Once done fry the fish until golden brown. Transfer to a plate and keep aside.
Now heat oil once again and add the bay leaf, cumin seeds and whole spices, saute on a medium flame When color changed, add all the paste spices together. Add some water and cook until oil has surface to the top. At a medium flame add the whisked curd, salt and combine well. When the mixture turns brown add the fried fish, along with all their resting juices. When the oils rise up squeeze some lime juice. After 10-15 minutes it should become to a thick curry. Before serving garnish with fresh coriander leaves.
Related posts