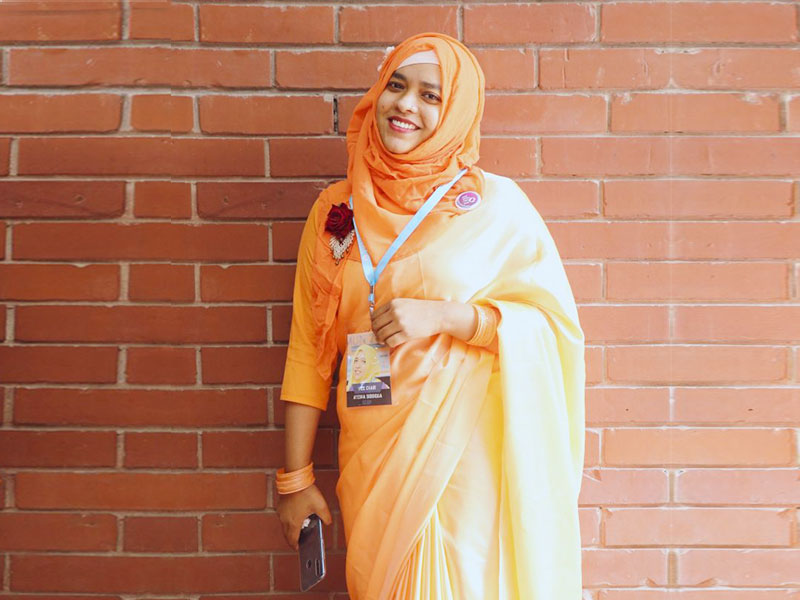 A Tale Of Young Entrepreneur – Fashionblitzs
faria Rahaman, 3 years ago
0
10 min

read
1418
Ayesha Siddiqua is a young entrepreneur who has a dream, passion towards her works. She gave an exclusive interview to Fashionblitzs team and we are covering the details here 
   1.What factors do you consider when choosing an event venue?
=>Thank you for your question. Basically, for an event venue different venue needs different factors for wedding venue firstly I try to know venue's size decoration, placing and position. After that thinking about how can décor that event as par our client's requirement and also unique. And most important thing is lighting for indoor and outdoor as well.
 2.What are your strategies for dealing with irate clients?
=> Every person does not have  same taste same choice and same toughness. Different persons have different perspective, choice, thoughts and requirement. As a event planner all of our client is special for us not to irritating client for me I always try to listen and understand your clients requirements. But yes, some of our clients had their low budget but they want high budget decorations sometimes it is pathetic and impossible for us. And try to convince them about our cost details. Because different decorations different things. And also cost will be more or less. So this situation have to convince that client smiling face.
3.Tell me about a time you had to deal with a last-minute change or unexpected situation when planning an event.
=> Yes, this is really very painful situation who any event needs to change something very last moment or happen unexpected situation for this situation try to plan "plan –B" or "alternative option" try to manage it smoothly this type of risk situation. And I believe that events mean "crisis".  It has to be remembered. So always try to prepare for that situation and planning alternative plan for any kind of unexpected problem.
 4.What are some of the ways you measure event success?
=> For any event sues try to do clients requirement. As per our client's decorations requirement to make proper budget and let them to know breakdown cost details. If they agreed then start to planning decorations things and manage all the necessary things that need to decorate for decorations. And minimum 2 or 3 days should checkout venue situation and materials as well. And most important thing I like to do for client service try to contact them for every update if they need extra facilities or want to change anything or they will need any kind of suggestion. By this communication clients will happy and can understand what actually clients want.
  5.How do you keep your event budgets on track?
=> Well each and every material are input our price check list. so that any kind event we will not face any kind of problem and do that smoothly. But yes, sometimes for our unique design need to maintain price list for that special materials. Form this way easily maintain any event budget. As per decorations picture list down with their prices and making packages so that our honorable client can choose easily what kind of decorations are, they need with their budget.
  6.Have you ever planned multiple events at the same time? How did you prioritize your time and resources to meet critical deadlines?
=> Yes, I had planned 4 events at the same time but fortunately not for same days. I had to planned 4 events planning for 4 days one by one day. And we really proud to say that we can arrange very short notice emergency wedding decorations within very short notice. Cause I believe that client's satisfaction first. And for maintain this kind tight schedule planning need to assign for person for make any event perfect. And for critical deadline if we assign more person hope critical situation will not be bad feedback.
7.What type of event planning are you most interested in? Corporate events? Social events? Why?
=> My most interested event planning is wedding events but also love to do social events. Because this type of social event gets to chance doing some social work.  Apart as an event planner like to arrange any kind of arrange or decorations because decorations are their first choice
What drags you in this field and from where you got this motivation?
=> I get motivation from them who are change their luck by their hard work, honesty, never give up mentality person. Like "Mash Rafi bin Murtaza ,  Nicholas  James, Jack ma, kin and spider story  that person who had lot of obstacles but they proof that no obstacles are stop them to gain their achievement.
Share your journey with us? was it smooth?
=> My journey was not so smooth and still not smooth. And I saw and believe nobody in this world who are gainer and popular their lifestyle, business, any other sector each and everyone's start was starting too much cruel but their dream, hard work, never give up mentality able to break all obstacles.  I always say myself I don't what is actually my future I don't know but I know my dream and have to gain that dream by doing my hard work because only this thing I have "hard work" always keep faith on my ALLAH. And never stop to run in this life if I fall down, I have to run with this huntress. Life is learning until death with this pain. And I want to thank 3 my guider Mr. Mohammad Nazim Goni ovi, Refath Jessan, my cousin Sirazul Islam. They help me a lot I always thankful to them. I have no family support but hey are our friend I get lot of support from them.
10.How has your education prepared you for a career as an event planner?
=> I am a student Eden Mohila college major finance and banking. Studying MBA final year. Honestly speaking without our business inflow and cash outflow maintain I didn't find out any kind of relations with my event management business. Yeah but for business marketing, strategy quite relate with my business. "Suktara Eventz", "Arshyanaa.com is my dream actually. If it comes true it will be my career as well.
What Time Do You Wake Up? How you start your day and manage work?
=> At morning 7 o'clock I wake up. Then go to my school where I am part time teacher. Then 10.30 back to my home doing some household works. Then I have my five tuition because this is only one way, I can earn some money my business investment also comes from this source actually ha ha ha. Because my family members don't know about my business. So full back for my business is myself. Sometimes I have meeting because I am also Secretary of finance of United Nations Youth and Student Association of Bangladesh this is actually volunteer organization and also another family here. Then 10.30pm back to my home. Doing as usual household work for helping y mother then go for taking fresh. Pray Namaz. Then start my all activities business, social work activities report write or update, seeing movie after praying Fazar salat  go to sleep. This is actually my daily lifestyle. Sometimes it changes.
12.What Easy Thing Are You Doing Too Much?
=> This is quite tough for answering this question. I love to go outing, writing poem or story, love to read life story book, loving crafting work and love to leave alone and passing some time for myself going outing.
What Hard Thing Are You Not Doing Enough?
=> Obviously "Exam" may be job exam, might be educational any exam any kind of exam means so tough for me. And another thing is "without doing any work" I can't feel well.
How do u manage work and personal life?
=> I always try to balance my all activities that might be form family, might me my organization, might be my other activities. I am elder daughter of my family so this is my first duty to maintain family responsibility, as teacher have to maintain student's responsibility carefully and also a member volunteer an organization have some responsibility for that organization.  That's why try to manage all activities at a time.
Among Three of them Which business you are interested more?
=> Event planning "Suktara Eventz" is my most interest thing. Apart from these activities i love to do some social work I have maintained one group which is women counseling group from where any frustrated women can get counseling for their personal life and live a depression free life. My group name is "  সখী"(https://www.facebook.com/groups/1113937865463028/permalink/1113963682127113/). Here any one can express their any depressed question, write anyone's beautiful moments so that other depressed person can get a new thing. There I have written a poem which is written by me.
"আমি নারী, হ্যাঁ আমি নারী
শত বাঁধা পেড়িয়ে পাহাড় ছুঁতে চাই
শেকলে বাঁধা পা নিয়েও
স্বপ্ন পুরনে আকাশ দেই পারি
কখনও শব্দ থেকেও শব্দহীনা নারী"
What suggestion u want to give to young entrepreneurs and passion lovers for this fields.
=> Just some important and necessary things I want to suggest young entrepreneurs, i) love your dream and make proper strategy ii) never ever be give up your dream your destination iii) work hard until you achieve your desired goals and always keep faith. And be honest, be polite and think positive. 'Allah" without his mercy can't gain anything.
17.How did you get your idea or concept for the business?
=> From my BBA 2nd year I tried to establish my own e-commerce business. That time my toughness was I want to achieve my own introduction which is truly my "own". That time did n't have any strategy, any money. After that after completing my BBA final start my new journey. and Event management is my passion because I love flower and want to decorate flower. Flowers smile like a divine gift for me.
What was your mission at the outset?
=> For my event planning business my dream is decorate any foreign even. And most important mission tries to satisfy our client so that "Sukatara eventz" can make that won brand and everyone knows about my "Suktara eventz". And my another business is e-commerce business I want every women can display their business products show my website. And all women can easily get together and sell products so that anyone can easily get their desired product.
How many employees?
=> For event planning business I have 3 dedicated heart soul employees. And another online shopping business employee.
20.How do you advertise your business?
 => I actually advertise my business through boosting. Clients reference and sharing.
21.To what do you attribute your success?
=> I am still now student so I can't contribute or invest my business more money. But I can do hard work, being honest and polite.
22.Do you work locally or nationally?
=> Well, working with locally and nationally both nationally means Chittagong, Raj Shahi and Dhaka as well. My dream is to try decorating any internationally.
23.What is unique about your business?
=> Everyone wants to make their business unique form others. Same I want this. My business uniqueness is my client's satisfaction. More client's happiness more blessing for my business.
Related posts