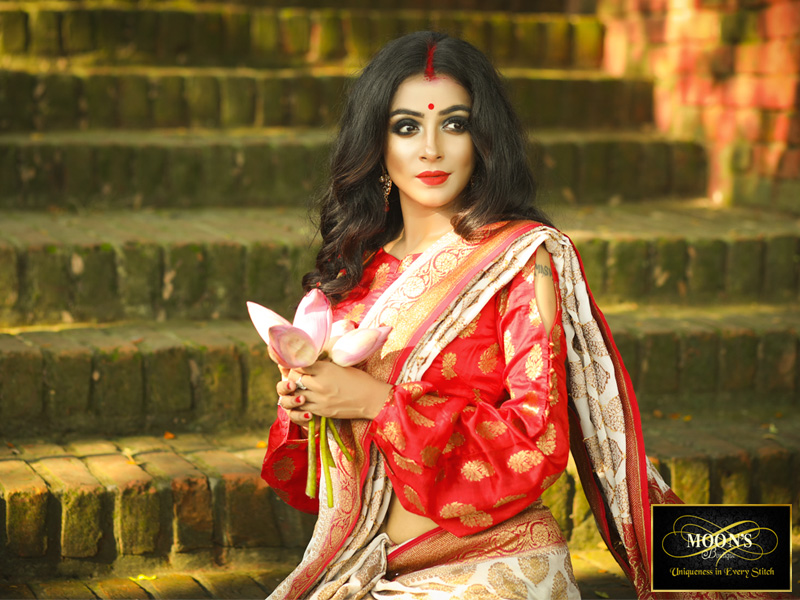 Durga Puja Special Saree 2019
mitu, 4 years ago
0
2 min

read
3609
On the off chance that you are searching for the most recent Durga Puja, Fashion Trends look no further! Look at the most popular trend pattern underneath and search for your top picks to amp up your look at this Durga Puja 2019.
Saree Fashion Trends For Durga Puja 2019 – Sarees are consistently the primary inclination among ladies particularly during celebrations like Durga Puja. Appreciate this Durga Puja with the most popular trend patterns and make the celebration snazzy and chic.
Worship means joy. Worship means the rhythm of the tambour. Let the joy of worshiping with the Moon's be doubled with their exclusive saree collection. There are also various offers with attractive collections.
During this season of Festive, young ladies 'saris, even young men's kurtas, there is a touch of handloom on everything. And Moon's boutique this time has Cotton, Silk, Khadi Banarasi beautiful collection of sarees for lovely ladies. Their saree starting price is 2,995 BDT and above.
Silk Saree
Anyone can easily wrap herself beautifully in silk sarees and it's very trendy for the puja look. On the beginning day of holy Durga puja, young girls or even newly married women can try out Moon's mesmerizing silk saree.
Cotton Saree
As this year's temperature is hot and the humidity high so women can choose cotton saree on the day of Kumari puja which helds on the 8th day. And there is no doubt that Moon's boutique brought best collections of cotton saree for this year puja outlook.
Khadi Banarasi
Bengali women get complete with red lipstick, brown smokey eyes, red bindi and top of notch wearing Khaddi Banarasi. The last day of puja where women play Shidur game and dances with the rhythm of the cover drum, a khadi Banarasi saree will be perfect to stand out on the biggest occasion and Moon's boutique has marvelous white and red eye-catching  Khadi Saree along Jori and Paar work and wearing this any women will look flawless.
Related posts