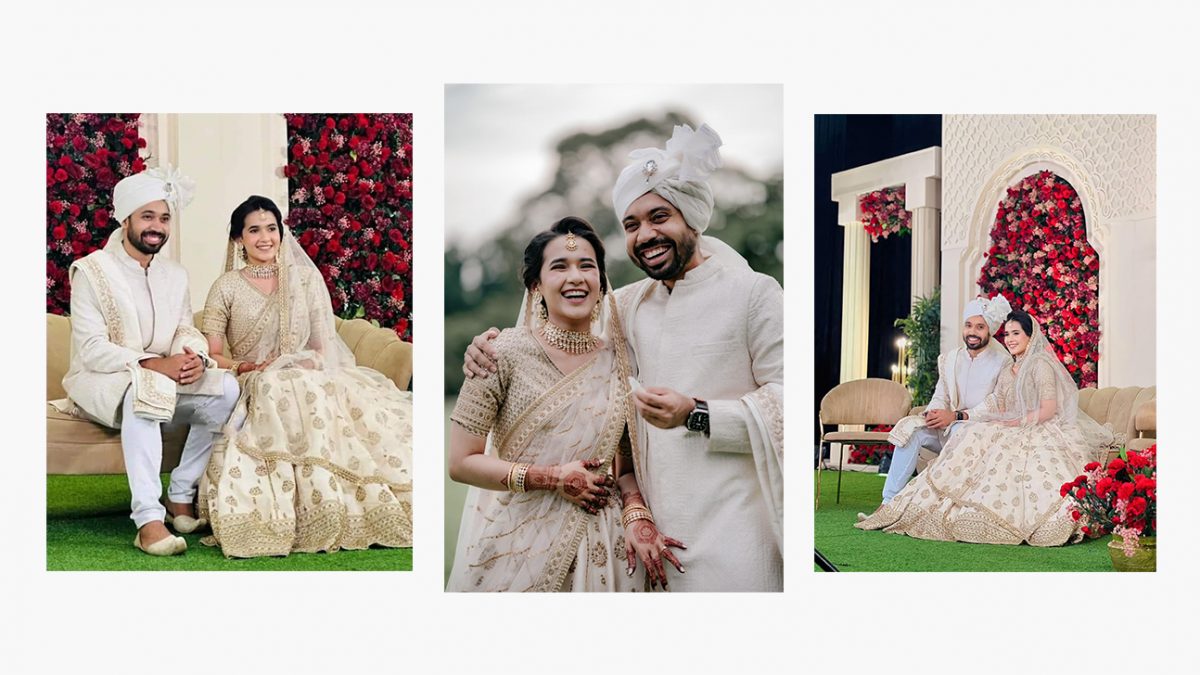 Munzereen Shahid looks simple yet elegant on her walima
Humayra Annur, 2 months ago
0
2 min

read
2324
In an ivory and antique gold attire, Munzereen walks down the aisle at the wedding ceremony and she looks absolutely stunning. Her natural beauty shines through, even with minimal makeup. And as always, her smile lights up the room. Her choice of minimalistic makeup complements her elegance perfectly.
"As someone who does not use makeup in her daily life, Munzereen was very clear about what she did not want — a heavy, all-out bridal look," shares Navin Ahmed, the owner of Gala Makeover Studio and Salon.
"We like to abide by our clients' requests because we are aware of their happier and more self-assured dispositions when they are satisfied with how they look. No makeup, fake lashes, and definitely no hair extensions were what Munzereen desired, she said. So we worked with what we had: her inherent beauty and our skill.
A basic color corrector served as the foundation before a moisturizing product with pigment was applied where there were red and blemishes. "Long-lasting coverage is not something that tinted moisturizers are known for; often, foundations are used for that. However, Munzereen felt uncomfortable with it, so we made up for it by giving her skin a really good prep."
After exfoliating, Munzereen's skin was covered in a highly moisturizing moisturizer. "We focused on it since the more moisturized your skin is, the better its sebum control is. We were sure it would work this time as well because it had on her akhd, stated a self-assured Navin.
Her choice of blush gives her such a youthful and fresh appearance. She applied a peachy liquid blush to her cheeks to simulate a natural glow. This tint matched the thin, mauve nude lipstick she had applied to her lips, which adds a touch of sophistication to her overall look.
Warm brown eyeliner was used to make Munzereen's eyes appear brighter, and a cool-toned brown wash was used to keep the look neutral while adding depth. Because lash extensions were a no-go, Navin said, "We used some heavy mascara for her again. The outcome was a pair of beaming, gleaming eyes that spoke for themselves.
A little tikli was secured in her side-parted bun, which was kept simple and effortlessly stylish.
The bride's simple elegance has truly captivated us all. Her choice to embrace natural beauty and tastefulness is not only inspiring but also a reminder that one need not always go all out to grab attention. She proves that authenticity and grace can be just as captivating, if not more so.
Related posts