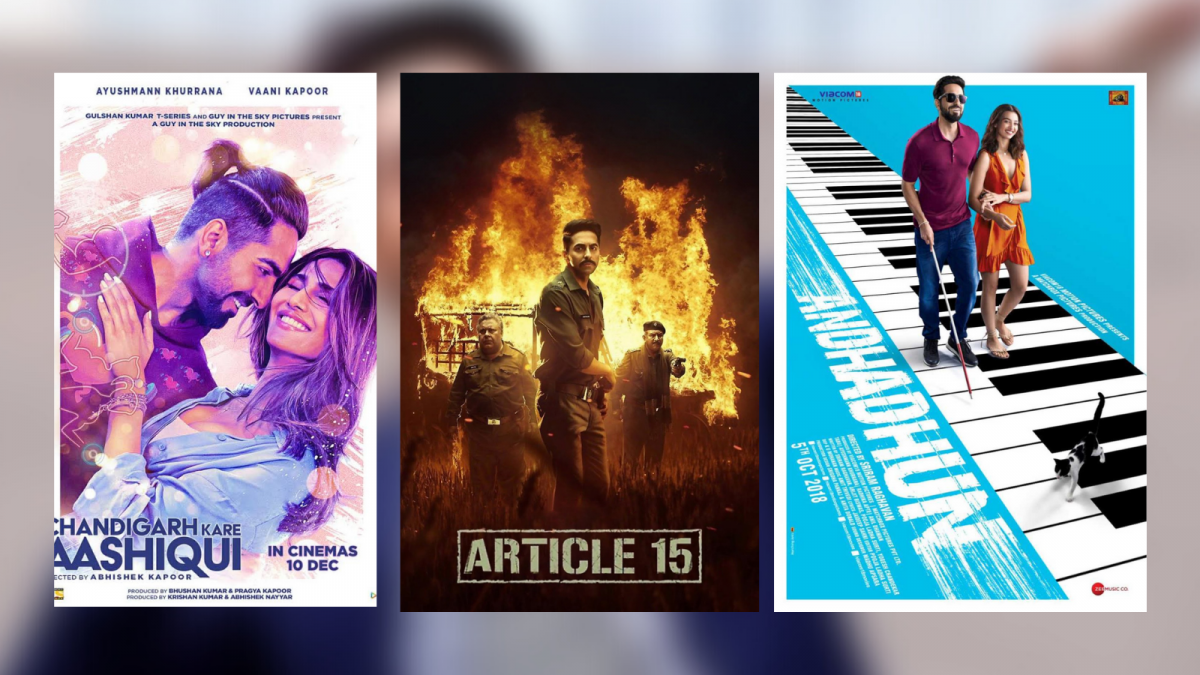 5 Ayushmann Khurrana Films That Shouldn't Be Missed
Nadia Mubin, 4 months ago
0
3 min

read
210
It can take actors decades to make a well-established name for themselves in Bollywood. Especially if they didn't have any prior connections. However, when such phenomena actually take place and an actor receives love and praise from the public, they become a fierce competition for the rest. Such one actor is Ayushmann Khurrana. With his immaculate acting prowess, he has shown time and time again that he does belong in the list of top actors in B-town. And in this article, we will list down 5 Ayushmann Khurrana films that everyone should watch.
Vicky Donor (2012)
Let's start the list with the movie that put the actor on the map. Vicky Donor is a film directed by Actor John Abraham. In the era when star kids were being hired left and right, Ayushmann managed to grab the role that catapulted his career o a new height. The movie is a romantic comedy that will set you on a path of laughter with a twist of emotions.
2. Andhadhun (2018)
A story about a musician who pretends to be blind to get people's sympathy and become more famous for his craft takes a dark turn as he happens to witness the murder of a wealthy client. The film will have you on the edge of your seat throughout the run time and will end with your jaws on the floor. Watch on as Ayushmann, Tabu, Radhika Apte, and many more talented actor brings the thrilling plot to life.
3. Badhaai Ho (2018)
So how will you react or handle a situation where you (in your 20s) find out that your parents are planning on giving you a new sibling? If you're thinking no way that's impossible, then this movie might change that. Badhaai Ho is a film that you can enjoy with your family and friends while sharing a hearty laugh.
4. Article 15
It is quite rare that a socially sensitive topic will be portrayed with such devotion that will invoke the general mass to stand up against caste discrimination prevalent in India. Everyone should watch it, not just to eradicate caste discrimination but all kinds of social, racial, and sexual inequality.
5. Chandigarh Kare Aashiqui (2021)
Speaking of socially sensitive topics, here is another film that is worth the watch. Chandigarh Kare Aashiqui highlights the struggles and biases that work against many trans people in India. The emotionally vulnerable situations faced by Manvi, a trans girl played by Vaani Kapoor, and the attempts of people around her to come to terms with her sexuality will prompt you to re-examine your outlook on the subject matter as well.
There should be no doubt by now that Ayushmann Khurrana has given audiences films that not only invoke laughter but are thought-provoking as well. So, try making some free time in your busy schedule to enjoy these great movies with your family or friends for some quality relaxation.
FashionBlitzs/Nadia
Related posts