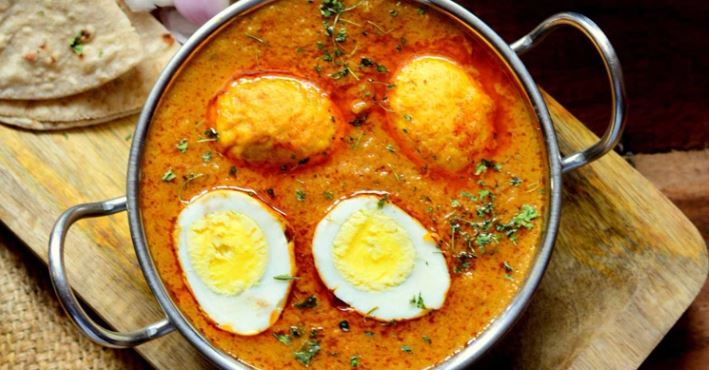 Eid Special Delicious Egg Kashmiri Korma
paulgemini, 2 years ago
0
1 min

read
560
Eid has come. So, some good food can be served. You can keep the delicious egg Kashmiri korma in the Eid recipe. Find out the recipes-
Component:
Eggs 6
Yellow powder 1 tsp
1 tsp chilli powder
1/4cup of the tea
Sweet curd 3 tbsp
1/2 cup onion
2 tbsp onion
1 tsp ginger
1 tsp garlic
1 tbsp almonds
Kismis bata 1 tbsp
1 tsp of the paste mixture
1 tsp hot spices powdered
Milk 1 cup
Lemon juice 1 tbsp
Allach 3
Tejpata 2
Daruchini 1 piece
1 tsp Kashmiri pepper powder
Onion barista 1/4 cup
Mawa 3 tbsp
Raw pepper 5/6
Sugar 1/2 tsp
1 tsp of kewra water
Zafaran 1 chim
Oil 1/4 cup
1/4 cup g
Salt tastes good.
Process: 
Boil the eggs and cut them into 2 pieces with a knife, add yellow powder, pepper powder salt, ghee and oil. Mix saffron and kewra water with a little milk.
In a bowl, mix the flour with the paste, the Kashmiri pepper powder, the chilli powder, the hot spice powder, the garlic, the ginger, the onion, the raisins, and the water. Mix the lemon juice in the milk. 
Heat the oil and ghee in a pan and add the onion powder to the pan and mix well and add the eggs. Cover with milk for 10 minutes when the eggs are cooked. Cover the onions with barista, sugar, pepper for another 5 minutes. Now, take the saffron and mawa and serve it with a burst of barista. 
Related link: https://bit.ly/2WWtqDm
Related posts